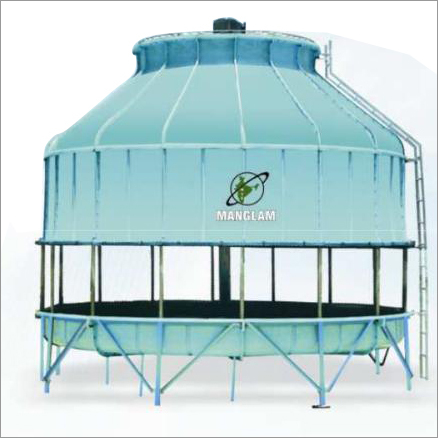 Round FRP Cooling Tower
Product Code : RFCT
30000 INR
Price And Quantity
Minimum Order Quantity

:

1
Unit of Measure

:

Piece/Pieces
Product Description
With the dedication of our team of technical experts, we are engaged in offering outstanding quality Round FRP Cooling Tower. This tower is extensively used in various industries for cooling purpose. The offered tower is manufactured with the use of excellent quality components to ensure its excellent performance. Clients can avail this Round FRP Cooling Tower in various technical options at nominal prices.

Features:

Compact
Light Weight
Corrosion resistance
Low maintenance
Rugged design
Hassle free operation
Long Life

Design Specification

Round and Square Type FRP Cooling Tower work on the counterflow principle as it gives the best performance. Through the infill the airflow is opposed to the flow of water. Then, the cold air and water meet at the bottom of the infill that provides heat transfer and maximum evaporation.

Casing & Basin

Tough fiberglass reinforced plastic (FRP) is used to make tower casing as it is leaked proved and has the strength to withstand high wind speed.

Fills

The splitting of water and air into several streams is done by fills. It increases the heat transfer and time of contact between water and air. ABS and HIPS are two types of material fills we can offer for high temperature applications.

Water Distribution System

The water distribution is made using GI pipes with plastic spray nozzles and multiple pipes. It can be used only in low pressure and for uniform distribution of water over fills. Automatic rotary sprinkler is also supplied by us for round bottle type cooling towers.

Fan

The axial type fans are made of either FRP or cast aluminium alloy with an adjustable pitch. It is energy efficient and is especially fabricated for low running cost.

Electric Motor

These electric mounted motor is totally enclosed with TENC type flanged with IP-55 degree of protection and threaded shaft to suit all kinds of cooling tower application.

Supporting Structure

To eliminate the chances of rusting or abrasion and to ensure a long service life the supporting steel membranes are galvanized in hot dip.

Applications
Air conditioning & Refgn. System, compressors & Chillers, Injection & Blow Moulding Machines, Diesel Generator Sets, Induction Furnace, Process Cooling, Chemical Process, Pharmaceutical Industries, Oxygen Plants, Welding Machines, Extruders, Dry Cleaning Machines.

Model

Cooling Capacity

Dimensions

Fan Diameter (mm)

Motor Capacity (HP)

Operating Weight (Kg.)

Pump Head (MWC)

Nominal TR

K.Cal. Hr. X 1000

Height (mm)

Diameter (mm)

MTCT-50

50

188

3000

2200

1200

3.0

825

3.0

MTCT-60

60

225

3000

2200

1200

3.0

850

3.0

MTCT-80

80

300

3000

3000

1500

5.0

1400

3.0

MTCT-100

100

375

3000

3000

150

5.0

1500

3.0

MTCT-115

115

431

3200

3000

1500

5.0

1600

3.3

MTCT-130

130

490

3200

3300

1800

7.5

1700

3.3

MTCT-160

160

600

3200

3300

1800

7.5

1800

3.3

MTCT-180

180

675

3200

3550

1800

7.5

2100

3.8

MTCT-200

200

750

3200

3550

1800

10.0

2250

3.8

MTCT-225

225

844

3350

3550

1800

10.0

2750

3.8

MTCT-250

250

940

4000

4250

2100

10.0

3500

4.5

MTCT-300

300

1125

4000

4250

2100

10.0

3800

4.5

MTCT-350

350

1312

4000

4800

2300

12.5

5000

4.5

MTCT-400

400

1500

4000

4800

2300

12.5

6000

4.5

MTCT-500

500

1875

4000

5400

2700

15

6300

4.5